EXERCISE presents:
The GENA ROWLANDS | SETSUKO HARA PROJECT ROOM
An Evening of Short Films*
selected by Giles Bailey & Arvo Leo.
With Soup & Bread.
Soup: Ash-e anar (Persian Pomegranate Soup)
Bread: Sourdough (baker: Derya Akay)
Friday November 23rd , 7pm
Soup at 7pm, Screening at 8pm.
*
(Soup)
H is for House - Peter Greenaway. 1973. 10 minutes
Study of a Territory 01 – Ghislain Amar. 2009. 9 minutes
The Discipline of DE - Gus Van Sant. 1982. 9 minutes
Saute Ma Ville – Chantal Akerman. 1968. 12 minutes
(Soup Break)
PUNCH – G.Bailey, R.Koolen, C. De Oliveira, A.Leo. 2011. 5 minutes.
Olive Mountain – Tim Birtwistle. 2010. 14 minutes
Excerpt from Jalsaghar [Roshan Kumari performing the Kathak Dance] – Satyajit Ray. 1958. 8 minutes
Keys to Kingdoms – Nathaniel Geary. 1999. 18 minutes
*
The Gena Rowlands | Setsuko Hara Project Room opened its doors in 2009 when Giles Bailey and Arvo Leo converted the name of a room in Rotterdam from Room 1.07 to the Gena Rowlands|Setsuko Hara Project Room. Since then numerous film-based events have taken place in the room. However, the G.R.S.H Project Room then began moving elsewhere from place to place as it saw fit. And this was easy enough; because in order to move the Room one only needed to move the brass plaque on the room's door and put it on another door... If a door moves, the room moves with it.
*
To those of you who cannot make the Friday screening there will be another screening on Sunday, November 25th at 2pm.
*
* Please note that 12 Film Posters made two years ago on November 24th, 2010 will be on display in order to help orchestrate the evening. Moreover, about a month after these posters were created it was decided that a song should be made to accompany each poster. Attached here is one of these songs (made by Arvo, Giles, and Stefan Udell) composed for the poster ostensibly titled: Mosquitos.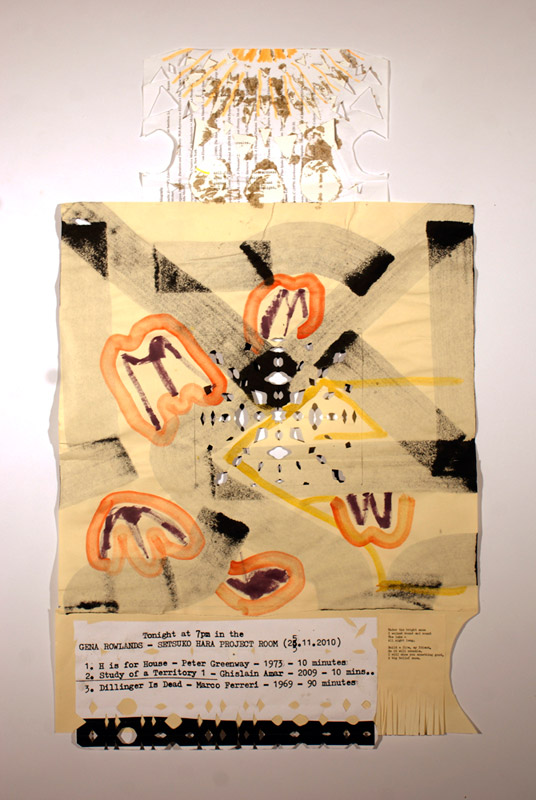 (_ _)
\ | /
\ | /
\ | /
/ "Y" \
| <0/0> |
| {+} |
\\___{++}___//
_______________ /{+++}\ _______________
//////////////////////////\ /_/{++}\_\ /\\\\\\\\\\\\\\\\\\\\\\\\\
////////////////////////////////-\/-\\\\\\\\\\\\\\\\\\\\\\\\\\\\\\\\
\\\\\\\\\\\\\\\\\\\\\/ | (/ (:) \) | \/////////////////////
~~~\\\\\ \ / (=) \ / /////~~~
/ / (=) \ \
/ \ (=) / \
/ \ (.) / \
/ \ m / \
/ \ / \
) \ / (
/ \
/ \
/ \
/ \
/ \
/ \
) (
/ \
/ \
Mosquito

made by Timmy Van Zoelen (Amsterdam)